we'd love to tell you a little more

about us
Our mission is simple – to be known as Perth's leading digital agency. How do we plan to achieve this? It's simple – by maintaining the values which our company was founded upon. Transparent and open communication with our clients, personalised service, and promotion of our collaborative work through culture and community involvement.
Based in the heart of Perth's lively CBD, PS Digital is a boutique digital marketing agency offering online solutions and supporting your digital endeavours. We are a full-service creative team dedicated to making your online dreams a reality – from web design to marketing to branding and much more we have you covered for every situation.
We understand that every business is unique and should be treated as such. We customise and curate strategies that grow businesses, and our leading line of creative experts is passionate about bringing you tangible results that make a real difference. Perth, interstate, or overseas; no matter where you are, we have the right solution waiting for you.
not just another faceless agency
PS Digital's Founder and Creative Director, Philip, began designing websites at a very young age enjoying a varied career both in Europe and Australia. Throughout this time, he developed a strong desire to support and grow businesses online through professional digital marketing solutions at an affordable price.
Philip's work ethic, approachability and fun nature will ensure your vision in all things digital marketing comes to fruition. He values face-to-face conversations, open communication, and a healthy work/life balance for everyone. If it's time for your business to scale up its online presence, all the above makes Philip and the PS Digital team… well, your team.
Hi, Philip here, I'm the Creative Director of PS Digital which I founded in January 2021, after working as a sole trader for many years. 
I bring with me a corporate background with a strong focus on creating customer excellence at every interaction, and my mission for PS Digital is to be the digital agency of choice in Perth, interstate and overseas.
Day to day I oversee our team of creative professionals, and work 1:1 with our clients to ensure I have full oversight of projects from start to finish. 
In my spare time you'll likely find me down the beach, at the gym or enjoying a wine (or two). 
Lizzy (never Elizabeth) joined PS Digital, or PS Online as we were known back then, in November 2020 as a Graphic Design intern, fresh from the SAE Institute, Perth.
She accepted a position of graphic designer in February 2021 and now helps our clients discover their brand identity, as well as assisting with day to day account management.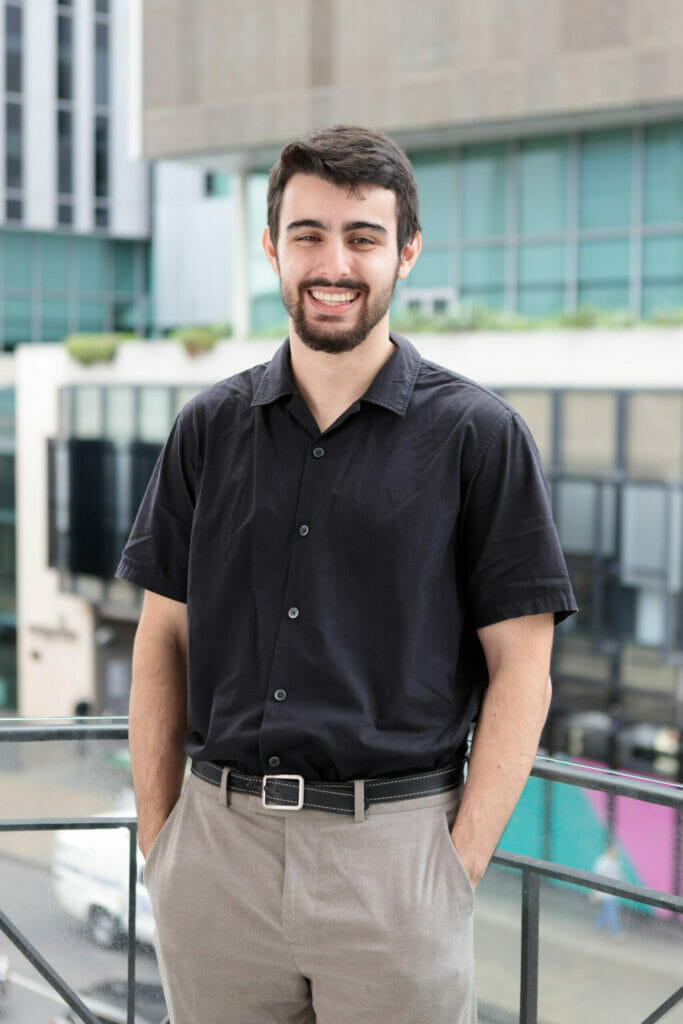 Our very own Italian Stallion, Michael joined PS Digital after graduating from Curtin University with a Bachelors in Marketing. 
Day to day, Michael assists our clients with digital marketing strategy, as well as co-ordinating our own marketing channels.
Nick is the genius behind many of our websites, quietly working away behind the scenes researching inspiration and creating concepts for our clients.
With us since conception, the most humble guy you'll ever meet – our Uncle Paolo works tirelessly on many of our web development projects. 
We have a clear and sustainable vision to offer creativity, affordability and transparency as Perth's leading collaborative digital agency for all businesses.
At PS Digital, our core values are a key driver as we bring our vision to life. This allows us to deliver exceptional results to each of our clients, as we lead the way for effective website and marketing solutions in Perth.
We are clear and direct when it comes to providing digital marketing solutions. Our expert team will guide you in the right direction to lead you on a path to success, without feeling left in the dark.
Respect should be the heart of every business. We love to work with businesses of all shapes and sizes, and we understand that each business has different needs. We consider all elements as we deliver exceptional results.
It takes a village, and we value that each member of PS Digital brings something different to the table. That's why our collaborative team works closely with clients to help build, launch and grow their business digitally.
We believe in open and honest communication between the team and our clients, meaning you can rely on us with all of your web design and marketing needs as we generate consistent results.
We celebrate all things unique when it comes to our team, our clients and life in general. We believe in equal opportunities and we promote an environment where everyone can feel safe, welcome and appreciated.